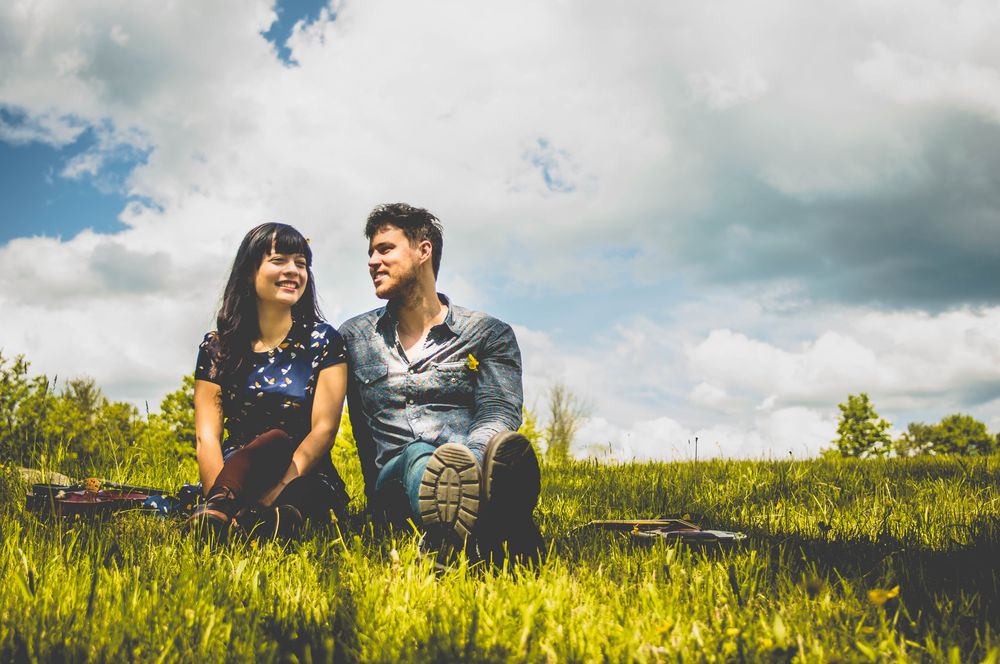 About The Bombadils 
Canadian Folk Music Award nominees The Bombadils bring together bluegrass, Celtic, and contemporary folk music with front-porch style and classical grace. Canadian arts journalist Bob Mersereau describes their music as "folk tunes done with musical adventure and sophistication" and Elmore Magazine calls it "an enchanting folk romp."
The Bombadils met in 2009 while studying music at McGill University in Montreal, Québec. In the years to follow, they began recording and touring throughout Canada, and internationally. Tour highlights include Koerner Hall in Toronto, ON, Tivoli Gardens in Denmark, and Wintergrass music festival outside Seattle, WA. In 2015 they released full-length album, "Grassy Roads, Wandering Feet," quickly followed by "New Shoes" in 2016 which was nominated for two Canadian Folk Music Awards and won Folk Music Ontario's Album of the Year award. 
The Longer Story
As told by Lorne Behrman
About The Bombadils and our upcoming album, 
Dear Friend, out on October 21, 2022
The musician's quest can be a gruelling one. The artist envisions an aesthetic and chases it tirelessly. There are the solitary hours spent honing their skills in the practice room. There is the private joy of hunting down seismic albums that shift and inspire the creative continuum. And then there is the grinding cycle of being a working musician where you write, record, leave home and tour, and repeat. 
Yet there is a special beauty in sharing this journey with someone you love. Someone who nerds out on the same obscure music as you do, and someone you can spend quiet time in a van with, hatching out plans to pay the rent while chasing your dreams. This is the story of The Bombadils.
Making their home in the foggy port city of Halifax, Canada, the pan-folk ensemble features husband and wife duo Sarah Frank and Luke Fraser plus guests from their extended musical family. Theirs is a story of two virtuosic instrumentalists – influenced by classical, jazz, bluegrass, and Celtic music, and inspired by various singer-songwriter traditions – who found each other and fell in love. Now, Sarah and Luke reflect that love and exuberance back to their fans, friends, and community with a singular musicality. Today, The Bombadils announce the milestone album, Dear Friend, the group's first record to feature all original songs.
"We've realized how powerful and important music is as a form of healing, celebration, and love. We want our songs to be a gift from our hearts to provide nourishment and healing to hungry and hurting hearts," Sarah says. 
The Bombadils write bittersweet but hopeful narratives. The band's impressionistic lyrics are rife with poetry, fresh metaphors, scene-setting details, and clever turns of phrase. These are front-porch style songs, but magnified by classical grace. The Bombadils' music features dynamic arrangements, adventurous instrumental passages, colorful harmonic progressions, heavenly vocal harmony interlace, and thrilling improvisational sections. Woven throughout this rich tapestry are Sarah's angelic soprano vocals, her dazzling fiddle playing, and Luke's warmly soulful singing and his prowess as a sensitive accompanist and a dynamic soloist on guitar and mandolin. Often, the twosome is joined onstage and in the studio with bass, harp, and cello. The band's expansive musicality reflects the mystical quality of its name, which is pinched from the character Tom Bombadil who appeared in J. R. R. Tolkien's Lord of the Rings epic. 
Previously, the group has released three albums. Canadian arts journalist Bob Mersereau describes The Bombadils' music as "folk tunes done with musical adventure and sophistication" and Elmore Magazine describes their music as "an enchanting folk romp." The Bombadils' third  album, 2016's New Shoes, was nominated for two Canadian Folk Music Awards and won Folk Music Ontario's "Album of the Year." Since 2015, the band has toured tirelessly throughout Canada and beyond. Select tour highlights include playing Koerner Hall in Toronto, Tivoli Gardens in Copenhagen, and Wintergrass music festival outside Seattle. 
The Bombadils formed in 2009 as a freewheeling music collective of formally-trained McGill University music students. In its early days, the group were mainstays of the pub scene, performing from an expansive repertoire of time-honoured folk, fiddle tunes, and old time standards. Luke joined The Bombadils as a mandolin player after meeting Sarah at a party. The pair soon became inseparable, and balanced attending jazz shows, indie shows, Irish sessions, and late-night bluegrass jams with early morning classes and staying on-point for classical studies and final recitals.
"We were friends and bandmates first, however, I felt a connection and wrote Luke a note saying I thought we might be 'musical soulmates,'" Sarah recalls with a good-natured laugh. "Yes, everyone saw it coming that we would take romantic interest in each other, but we were the last to see it. We were friends for about a year before we started dating."
Together, they marveled over roots music groups such as Alison Krauss & Union Station, Lúnasa, and Punch Brothers. Over time, Sarah and Luke began to earnestly explore songwriting and understand the power of words, poetry, and literate lyrics. This journey comes to a creative apex on The Bombadils' upcoming album, Dear Friend.
Dear Friend is The Bombadils' first full-length album release after having moved to Atlantic Canada and launching straight into the rush of new parenthood, a new city, and a global pandemic. The 11-song album was recorded with engineer Graeme Campbell between lockdowns and daycare pick-ups. It is a series of love letters of a certain kind—to family and friends, to strangers and neighbors, to cities and landscapes, to each other.
"We've been a music-making couple for over a decade and we've never written a love song until now. We've sung love songs written by others, but to write and sing one ourselves has been something we've shied away from," Sarah shares. Luke continues: "This is our first album where we took our time instead of rushing. It's more stylistically consistent, it's dynamic, and it feels like the first album to call our own."
The Bombabils journey has been transformative for Sarah and Luke, their fans, and their close-knit community of friends and fellow musicians from around the world. "Music helps us see others in a more loving way; it reminds us that we're all a human family and that we're all together on this walk of life."
"

folk tunes done with musical adventure and sophistication"
"

[The Bombadils] should already be sharing stages with the likes of Iris, John Prine, Roseanne Cash, Emmylou Harris..."